Contact Me Today!
My office hours are between 9:00 AM and 5:00 PM. I look forward to hearing from you.
Phone: 412.523.2307
Fax: 954.306.8890
Email: rebecca@poljaklaw.com
Address: 1160 N Federal Hwy. Suite 813 Ft Lauderdale, FL 33304
About Me
Ms. Poljak received her Bachelor of Science in Nursing and Law degrees from Duquesne University. She has a nearly fifteen year clinical nursing background primarily in the Neonatal Intensive Care area. She has experience as a staff nurse, manager and subsequently as a consultant in that specialty.
Ms. Poljak received her conflict resolution and mediation training and certificates from the Pittsburgh Mediation Center. She is a member of the Court of Common Pleas of Beaver County Medical Malpractice Mediation Panel.
Ms. Poljak is a member of the Allegheny County Bar Association. She served a three year term as a member of that Association's Judiciary Committee from 2000-2003.

Welcome to the Law Office of Rebecca Kearney Poljak
I am licensed in Pennsylvania and Florida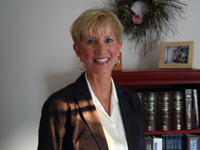 You have reached the Law Office of Rebecca Poljak. We offer a wide range of legal services to help get you what you deserve! If you would like to setup a meeting to discuss your case, please call me at 412.523.2307 or send me an email at rebecca@poljaklaw.com.
To learn more about what we can do for you, or to read about the success we've had with other clients, please read on!
What We Do
Ms. Poljak concentrates her practice in the areas of litigation, primarily medical malpractice and personal injury as well as in mediation. She has represented patients as well as
doctors and hospitals.
Litigation
When "parties" or people are unable to resolve a dispute through agreement, often the facts are presented before a court including a judge and jury in the form of a trial. The types of disputes vary greatly. Ms. Poljak focuses her litigation practice in the areas of medical malpractice and personal injury. As a nurse for nearly fifteen years before beginning to practice law, Ms. Poljak has a keen understanding of the intricate medical issues that form the basis for a case in which a patient has been the victim of medical malpractice or a person has been injured at the hand of another.
Litigation involves an often lengthy process of investigation, exchange of information eventually leading up to pre-trial, trial and at times post-trial events.
Mediation
Contrary to litigation, mediation is a form of alternative dispute resolution. In this forum, the parties come together to reach an agreement through discussion, at times presentation of evidence or exhibits and eventually a meeting of the minds. As a certified mediator, Ms. Poljak is trained to facilitate these types of sessions.
Conflicts can range from something as simple as a neighborhood dispute to a more complicated contract or employment issue. What makes this particular vehicle attractive is that it can be personalized, timely and it gives the parties more control over the resolution.